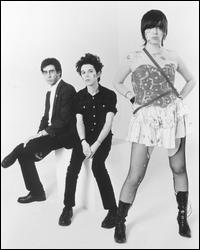 Quem também já prepara um novo disco são os Yeah Yeah Yeah's. O propósito do grupo é a reinvenção do seu próprio som. Estou em pulgas...

Na Pitchfork escreve-se assim:

"The band has already recorded an untitled track, according to guitarist Nick Zinner. "I mixed it in L.A. a few days ago with [engineer] Alan Moulder, owner of the best ears in this universe. It sounds amazing and lush and heavy as fuck, and also is very indicative of our next step." If Zinner's facility with adjectives does not entirely convince you, a look at Alan Moulder's resume offers potential support for 'heavy' and, well, especially 'lush'-- he was one of the great studio men of the shoegaze era, building his early career with production and engineering work for My Bloody Valentine, The Jesus & Mary Chain, Ride, Curve, Lush, and Swervedriver, although his recent work leans more toward cash machines like Marilyn Manson, A Perfect Circle, Zwan, and, most recently, The Killers."